A
n award-winning shop like ours is a stand-out, you just don't find others like it. Both the AAA and the BBB dig deep and expect a great deal of transparency from us before they consider such an honor. They look at what we do for our customers, our community and our environment.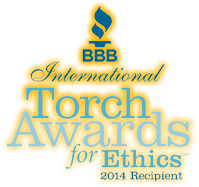 Better Business Bureau (BBB) International Torch Award for Ethics
2014 Winner
To qualify, candidates must first win their local Torch Award for Ethics, which is currently offered by 14 BBB centers across North America. Winners must demonstrate a superior commitment to exceptional standards that benefit their consumers, employees, suppliers, shareholders, and communities. Categories are designated by number of employees, and 25th Street Automotive was the only automotive corporation to win the inaugural 2014 award. Winners must be in business more than three years, have a B or higher BBB rating, and show proof of meeting their financial obligations.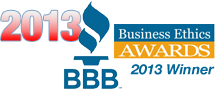 Arizona Better Business Bureau (BBB) Ethics Award
Multi-year Finalist, 2013 Winner
This annual award is given to recognize companies whose leaders demonstrate a high level of personal character. Components of the award include leadership commitment to ethical practices, communication of ethical practices, organizational commitment to ethical practices and performance management practices, ethical human resources practices, and organizational commitment to the community. To qualify, all applicants must submit a comprehensive application packet. Fifteen finalists are then interviewed to determine a winner in each category, which is based on number of employees.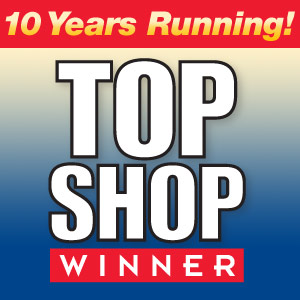 Automobile Association of America (AAA) Top Shop
2007–2016
AAA Top Shops provide honest, reliable, and quality service. In 2013, 29 automotive repair shops were honored with the designation. To be considered, shops must be part of AAA's approved auto repair network and adhere to more than 20 standards, including undergoing annual inspections, having a staff of ASE-certified technicians, providing guarantees for a minimum of 12 months or 12,000 miles for AAA members, maintaining 90% or higher customer approval rating, remaining active in the community through service and charity work, and sustaining an excellent business reputation. 25th Street Automotive received this award for ten consecutive years before stepping away.


Arizona Department of Environmental Quality (ADEQ) Green Business
Through a partnership among ADEQ, AAA Arizona, the Automotive Service Association of Arizona, and the City of Mesa, automotive repair shops can volunteer to promote an environmentally friendly approach to car repair, which then designates those shops under the Arizona Green Business Program. A Green Business focuses on protecting the environment by preventing pollution and conserving resources. A number of items on the checklist of "green" accomplishments must be met to achieve this designation.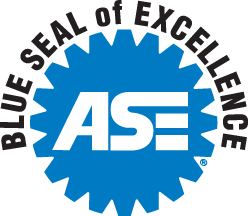 National Institute for Automotive Service Excellence (ASE) Blue Seal of Excellence
2013–2014
To qualify for this designation, at least 75% of the shop's technicians must be ASE certified (at 25th Street Automotive, 100% of our technicians are ASE certified). ASE-certified technicians must have two years of on-the-job training or one year of training and a two-year degree in automotive repair. They must also pass the certification test, which only 2/3 pass on their first attempt. To remain certified, technicians must retest every five years. 25th Street Automotive surpasses this status by expecting all permanent technicians to maintain Master status.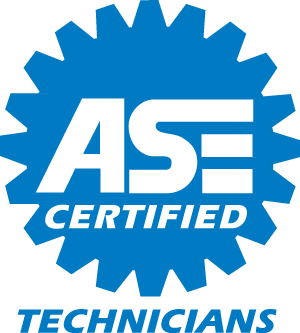 Automotive Service Excellence (ASE) Master Technicians
A Master Technician must pass a series of nine tests and document at least two years of relevant hands-on work experience. They must retest every five years, and if one of the certifications expires, the technician will lose status. Currently, 25th Street Automotive has three long-time Master Technicians on our team.