B
ecause chances are you will come to trust our work and trust us. We provide expert service. Caring is part of who we are and what we do.
• Expert Service • Caring People • Fair Price •
A Family Business Since 1958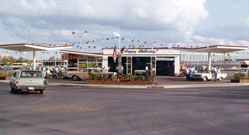 The family business started in 1958 in Phoenix, AZ. In 1959, our patriarch opened a Humble Oil Gas Station on the SE corner of 44th Street and Thomas Road (pictured at right in December 1963). The land behind the gas station was a farm and some customers brought their car in for an oil change and let their children play with the lambs on the farm behind the station. That location was run by the family for 30 years until the lease expired and the new mall was to be built. From there, the second generation purchased facilities of their own and have continued to serve the community they have grown up in!
Business Ethics Award Winner
25th Street Automotive was a winner of the Better Business Bureau's "Business Ethics Award". Businesses of all types and sizes were nominated from all over the state. The awards were based on a lot of factors including: employee training, standing in the community, business reputation, quality of work and other factors. 25th Street Automotive is proud to have repeatedly been one of the finalists for our size business.
Best Car Repair Shops in Arizona List
25th Street Automotive is recognized as one of the best shops in Arizona on radio's Under the Hood with Mark Salem. After much scrutiny TV 3's car guy Mark Salem listed us as one of the best auto shops in the metro Phoenix area and does so each year since our first year of business. This distinction is only given after the shop has been referred by customers and passed the careful inspection of Mark Salem and his team. Like our customers, he finds us among the best in town!
AAA Top Shop Award Winner
25th street Automotive has once again been awarded the AAA Top Shop Award! Criteria includes quality of staff, number of ASE certified employees, CSI scores (or customer satisfaction ratings as they reflect their state of approval), community service, awards and recognition.
Angie's List Super Service Award Winner
25th Street Automotive has repeatedly been awarded the Angie's List Super Service Award! Clearly, our customers are vocal about how much care and effort we put into training for and providing exceptional customer service. It's part of our commitment to total quality.
We get the trophies. You get the benifits.