Ibet you'd like the truth about your Check Engine Light. We can get the answers and we'll call you back with the facts. Some shops use warning lights as a way to scare drivers into dropping their car off. That's not us. We're the ethics award winner.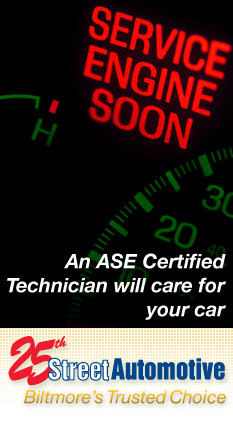 The Environmental Protection Agency mandated the car manufacturers to install this warning light. When the onboard computer thinks there is something sufficiently wrong with your car to cause you to be polluting the air, the MIL or Malfunction Indicator Light will come on. It may even go off for a while, but the car probably didn't fix itself.
When you see a warning light, the general rule of thumb is: If it's red – stop and tow the car in. If it's yellow, like the Check Engine Light we're talking about here (sometimes displaying: Service Engine Soon) you should call for an appointment to have the problem diagnosed and corrected at your earliest convenience.
We each have a responsibility to do our best not to contribute to smog – and the Department of Environmental Quality makes you take your car in for an emission test to make sure you are doing your part.
We'll do our part by testing and repairing the problem that your car noticed when it turned on that Check Engine Light.