W
hen it comes to car, van, SUV and light truck service and repair,
we're certified experts.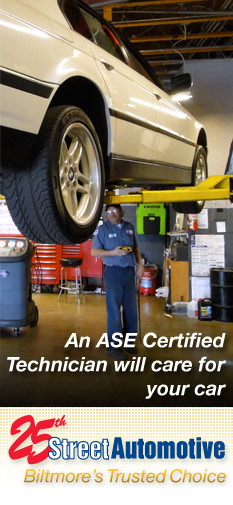 Air conditioning/heating repair
Cooling system repair and maintenance
Drivetrain
Electrical problems
Engine performance
Engine repair
Factory recommended service/maintenance
Steering & suspension
W
e know how important your vehicle is to you. It's what gets you to and from work. It's what gets the kids to school or soccer practice. It's what allows you to make those early evening ice cream runs!
At 25th Street Automotive, we'll get your vehicle back to you as soon as possible. Sometimes, however, we may have to keep your car overnight or for a few days.
For your convenience, we have secured special rates for 25th Street Automotive customers with Budget car rental.
Budget Mid Town
2640 East Indian School Road
Phoenix, AZ
(602) 957-9836
E-mail
Mention 25th Street Automotive and receive our preferred rates.
Car, SUV and Light Truck Service and Repair
We are not only AAA Approved, as of 2014 we have been a AAA Top Shop Winner 8 Years Running. 25th Street Automotive is among the Best of the Best automotive repair shops in Phoenix. Making AAA's list of Top Shops, AAA Approved Auto Repair (AAR) facilities are required to provide honest, reliable, quality service.
To be considered Top Shop-worthy, AAA requires that we hold to more than 20 standards, some which are:
Staff an Automotive Service Excellence (ASE) certified technician or equivalent for each area of service offered.
Guarantee effectiveness of repairs, parts, labor or components for a minimum of 24 months or 24,000 miles for AAA members.
Maintain customer surveys with at least a 90 percent approval rating.
Remain actively involved in the community through service groups and charities.
Uphold an exemplary business reputation.
Above and beyond those high standards, when you trust us with your family car, you can rest assured that an ASE Certified technician is responsible for each repair. That means that a highly trained, competent and experienced auto mechanic will proudly service and repair your car.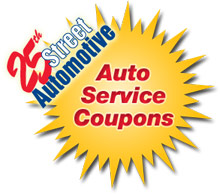 Service your auto at 25th Street Automotive, family owned and maintaining cars, SUVs and light trucks since 1958.
Save money with an Auto Service Coupon. We promise to keep our prices fair, but for those who love an extra bargain, here are a couple.